New laminate flooring for New Holland Coffee Shop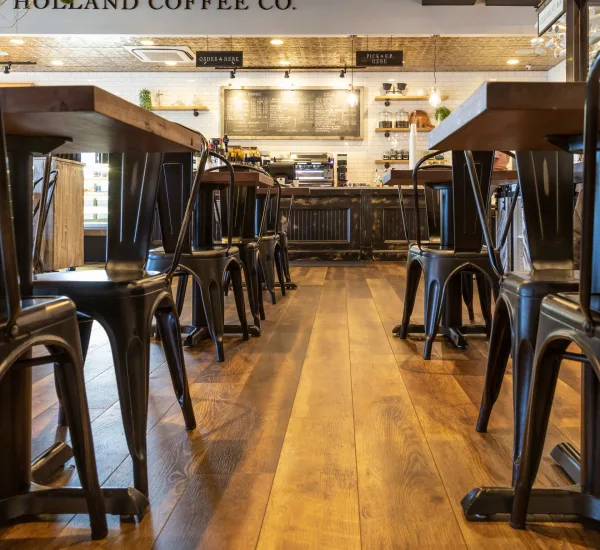 In the spring of 2018, New Holland Coffee came to Flor Haus looking for new flooring. The coffee shop had recently been purchased by Mark, the owner of B&E Roofing and Remodeling. For over 12 years Mark had partnered with Flor Haus on other projects. Naturally, Flor Haus seemed like the obvious choice. Mark was building a new coffee shop space and he envisioned durable laminate flooring for the area. We recommended a 7" wide Coretec Plus HD Vinyl Plank floor. The Vineyard Barrel style with the Driftwood color proved to be a perfect fit for Mark's design style.

This particular kind of laminate floor is a popular choice with many customers. It's easy to replace since it is floating. It is also scratch-resistant, fade-resistant, easy to clean, and waterproof.

The installation process included cutting around a stone fireplace that was already installed in the center of the floor. Our installation team soon had the Coretec flooring installed and the job was completed. Mark loves the look of the finished flooring project. He readily recommends Flor Haus. "They back their work up 100%. If there are issues, they will take care of them. I was never dissatisfied."
Have questions? We're here to help.
Contact us today to get started on your project.
Request a free estimate
Keep me up to date with exclusive offers.
Success!
Thank you! We'll be in touch shortly.